Data annotation
12 Best AI Video Annotation Tools of 2023 [Updated]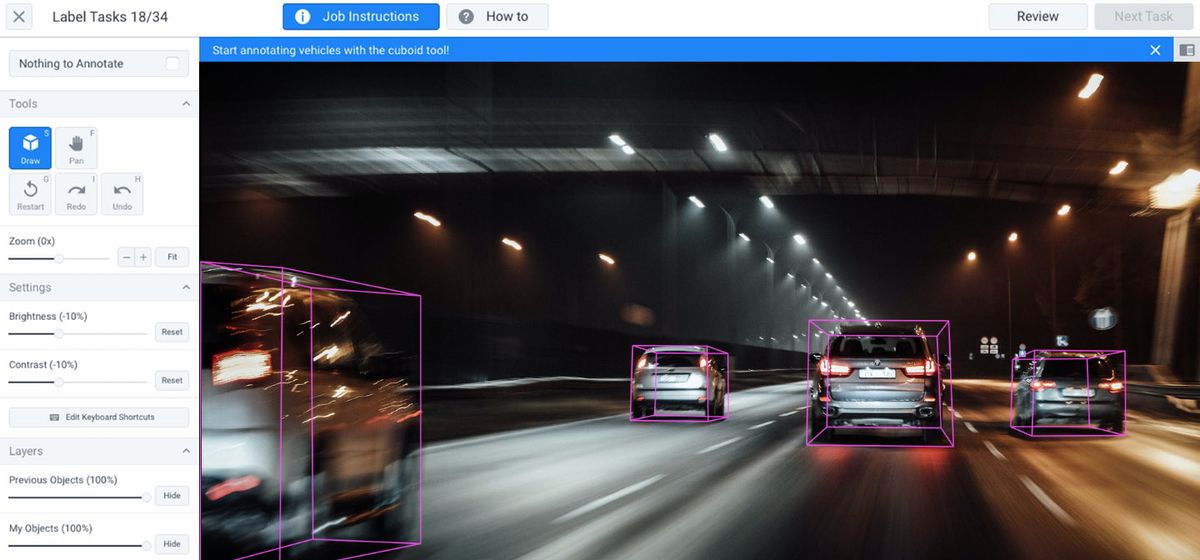 Video annotations are a way to add extra information to the video. You can add them before, during, or after recording and use them for many purposes. AI video annotations are standard in computer vision projects and machine learning systems.
They can help improve accuracy by providing more context for the algorithm. For example, include the location of particular objects in the frame. They're also helpful for training algorithms to detect specific objects.
What are the 12 best AI video Annotation Tools?
AI video annotation tools allow you to annotate your videos in minutes. Here are the 12 best AI tools to help you annotate your videos.
Keylabs offers a comprehensive set of annotation tools, including AI-powered video annotation. Keylabs' AI video annotation tool is one of the best options. It can detect critical moments in your video, generate tags, and add descriptions. These features make navigating your content and finding relevant points easy.
Amazon Rekognition Video is a video analysis tool. In videos, you can use it to detect and recognize objects, activities, faces, and text. You can use it for video surveillance and monitoring. Amazon Rekognition Video also provides some basic analytics capabilities. You can track the number of people in a video or measure how much time they spend at a certain point of interest.
Computer Vision Annotation Tool (CVAT) is an image and video annotation tool available for free. CVAT lets you use a variety of tools to annotate your content, including:
Markers
Text labels (both free text fields and predefined lists)
Object bounding boxes and annotations
CVAT is suitable for labeling data for computer vision projects. You can also train models based on the data you annotate.
Labelbox is a free tool for small teams. It uses machine learning to identify objects in video. The AI algorithms tool breaks down each video frame into individual images. You can train the algorithm to detect similar things in other videos. Labelbox can handle large datasets and has a simple interface, making it easy for anyone to use.
Video Ant is a free web-based video annotation tool you can use on online videos. Export your annotations in various formats and share them with other team members. This tool is a good option if you only want to add text and don't need drawing options.
The solution is suitable if you need to solve complex image recognition problems. This AI-powered platform makes it easy to get insights into computer vision. Moreover, it features an intelligent user interface that enables users of all technical levels.
Dataloop is a video annotation tool that you can use for data collection and analysis. It's used for manual or automated annotations, making it great for videos, images, and text. Its free trial version allows you to annotate up to 100 clips per month.
SuperAnnotate is a cloud-based video annotation tool. It allows you to create visualizations, highlights, and notes on videos. You can use it to annotate videos from a variety of sources like YouTube, Vimeo, or Facebook. It also offers advanced features such as text editing, shape creation, highlight selection, and custom colors.
Scale AI is a video annotation tool that uses deep learning to analyze videos and split them into scenes. It also tags each scene with the most relevant keywords. With Scale AI, you can create training data sets. These enable your computer vision models to recognize objects in different footage types.
VoTT is a cloud-based video annotation tool using AI to annotate video content. VoTT is easy to use and integrate into your existing workflow (e.g., you can use it with other software). You can also pay for more features if you choose.
Supervise.ly is an AI video annotation tool that you can use for many applications. It can analyze the content of videos in real-time (or near-real time). It uses deep learning algorithms and natural language processing technology. The tool supports various industries, including medical, retail, and law enforcement.
You can use Google Cloud Video Intelligence for video annotation and search. The tool offers many benefits, such as:

Annotating videos with a single click of a button.
Searching through millions of hours of video data within seconds.
The tool allows you to annotate, transcribe, and add subtitles to the video. Use speech recognition technology, and search through the media library.
Conclusion
AI video annotation tools are an essential part of the AI ecosystem. They make it possible to build computer vision applications. But quality makes a big difference in the effectiveness of ML and computer vision algorithms.
Create high-quality annotations with the best tools. Whether you're starting with lane and instance segmentation or need more accurate object tracking.